Griselda Villalobos, Ph.D., LCSW,
Licensed Clinical Psychologist
Director and Clinical Supervisor
Dr. Villalobos is a Licensed Clinical Psychologist, Licensed Clinical Social Worker and LCSW Supervisor in the state of Texas. She graduated from Fielding University in 2019 with a PhD in Clinical Psychology. Dr. Villalobos earned a doctoral degree in Social Work Research at The University of Texas at El Paso in 2009. Her pre-doctoral internship in clinical psychology was completed at the El Paso VA Healthcare System where she trained extensively on the delivery of evidence-based practices for Posttraumatic Stress Disorder, depression, chronic pain, insomnia and anxiety disorders. Dr. Villalobos has 12 years' experience providing psychotherapy to individuals, families, and groups. She specializes in cognitive behavioral therapies such as CBT for Depression, CBT for Chronic Pain, and CBT for Insomnia. She is a trained and experienced trauma therapist who specializes in Prolonged Exposure and Cognitive Processing Therapy for PTSD. Additionally, she is a certified EMDR therapist and an EMDR Approved Consultant. Dr. Villalobos is a native El Pasoan and is fluent in Spanish.
---
Gloria Celene Parra, LMSW
LCSW Supervisee
Gloria Celene Parra is a Licensed Master Social Worker in the state of Texas and New Mexico. She graduated from New Mexico State University in 2007 with a Bachelor of Social Work and a Bachelor of Arts in Foreign Languages with a concentration in Spanish. She obtained a Master of Social Work from New Mexico State University in 2008. Ms. Parra has been a social worker assisting families going through the family court system for the past eight years. She has been helping families increase their co-parenting capacities and is a trained mediator. In addition, she has experience working with victims of domestic violence. Ms. Parra is currently working towards her clinical social work license under the supervision of Dr. Villalobos. Ms. Parra is trained in CBT to treat depression and anxiety. She is fluent in Spanish and English.

---
Mariaelena S. Knight, LCSW, CART, LMSW-IPR
Contract Therapist
Mariaelena Knight completed her Master of Social Work Degree at New Mexico State University and her Business Administration Degree at the University of Phoenix. Mariaelena was born and raised in El Paso and is bilingual in Spanish and English. She has a Clinical License to practice in Texas and New Mexico and is a Certified Anger Resolution Therapist. She has 17 years of Social Work experience across a variety of settings including Child Protective Services, Foster and Adoption, Clinical Social Work, and private practice. Mariaelena has an appreciation for working with individuals, families, and couples. She has clinical experience treating depression, anxiety, anger, relational problems, grief, and prenatal and postpartum depression. Mariaelena continually updates her skillset and knowledge to include innovative methodologies. Her therapeutic approach accentuates a safe, open, non-judgmental place, and holistic style to mental health where her clients can find comfort, validation, and insight.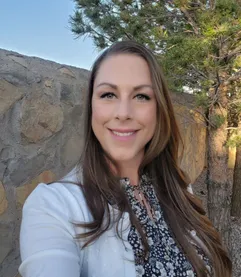 Jennifer Lopez, LPC
Contract Therapist
Jennifer Lopez, LPC is a Veteran of the United States Army and Licensed Professional Counselor in the state of Texas. She graduated from Texas A&M University-Central Texas in 2019 with a Master of Science in Clinical Mental Health Counseling. She joined the United States Army in 2007 and has two combat tours to Iraq. She completed her internship and worked in the correctional setting as a Mental Health Counselor providing individual therapy, group therapy, and crisis interventions. She has clinical experience with treating anxiety, depression, trauma, grief, gender dysphoria, life transitions, mild cognitive impairments, and intellectual disabilities. She is trained on the Montreal Cognitive Assessment. She utilizes a non-judgmental and open approach which works well across all demographics, cultures, and beliefs. She is a native El Pasoan who returned to serve her community.
Becky House MS, LMFT, LPC, & RD

Contract Therapist

Becky House is a Licensed Marriage and Family Therapist and Licensed Professional Counselor in the state of Texas. Becky has been a Registered Dietitian for over 30 years and can coach you to obtain some of your health goals. Becky has experience working with all age groups and enjoys working with couples and families.
Becky is passionate about helping people experience unconditional love. Becky loves to listen to people's stories and together help them craft new meaning to some of the storms life gives. Becky has been married 39 years to her beloved - Ray. Becky has lived 10 years in other countries outside of the USA. She is the mother of two adopted children, one is an adult and the other is a preteen. Becky has experienced joy seeing the tapestry woven from many stories.